New From Kleen Kraft: The StepWell™ Sanitizing Mat
Ideal for use in food processing facilities or any area where increased sanitation is important.
Step into a new era of Kleen with the StepWell Shoe Sanitizing Tray from Kleen Kraft, your trusted partner in keeping your workplace safe and healthy!
This mat is an effective way to remove dirt and germs from the shoes of every employee and visitor who enters your facility, reducing contamination from outside the workplace. How does it work? This mat features a 2' x 3' well that holds an abrasive insert and liquid sanitizer. The insert serves as a splash guard too, helping dislodge dirt and debris from the bottom of shoes so that the sanitizer can disinfect the entire sole.
Adding the StepWell mat from Kleen Kraft provides an all-in-one solution for safely sanitizing shoes anywhere people may step into your building.
Our customers count on us for clean, sanitized uniform garments and products to keep their facilities clean every single day. We're thrilled to offer this new product with an effective germ-killing sanitizer dispensing system. It's especially helpful when used in commercial and industrial applications such as food processing, manufacturing, auto dealerships, and more where the need to control the spread of illness-causing germs is critical!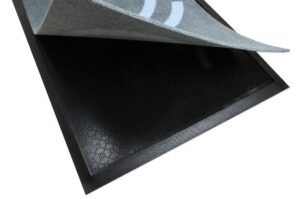 StepWell Shoe Sanitizing Mat Specifications:
Tray holds one insert and approximately 84 ounces (2.5 L) of MicroKlean Sanitizing Solution
Approximately 2-3 month lifespan, though it depends greatly on the amount of foot traffic your mat receives
Additional inserts are available in packs of 4
MicroKlean Sanitizing Solution is available separately as part of our ongoing facility service supply services
Wash, wipe, and walk safely!
We recommend a walk-off mat adjacent to the StepWell, which will help remove excess moisture and minimize the likelihood of slips and falls. Kleen Kraft offers a variety of mats with a flexible rental and cleaning program built to meet your specific needs.
Over the last several months, our team has focused on sourcing new products and solutions to help keep our facilities and those of our customers prepared for anything. We're dedicated to continuous improvement ensuring clean, sanitized uniform garments and products including towels, mats, mops, and a growing list of sanitizer and soap supplies needed to ensure employee health and safety.
Interested in knowing more about the StepWell Sanitizing Mat and other cleaning solutions Kleen Kraft can offer your business? Contact our representatives to learn more.