Enhanced Visibility Work Wear - Keep employees safe on the job
No matter what industry someone works in, safety is a critical concern. Whether it's getting ear plugs for those around loud noises or specialty protection for a welder, specific measures are taken to ensure every employee isn't put at risk. While these safety precautions are straight forward, think about all of the other potential accident areas around your workplace.
Dark areas in production facilities
Shipping docks where forklifts are moving materials
Maintenance staff working under, on, or in machinery
Construction sites with a flurry of activity and heavy equipment
Tow truck drivers on the side of the road in the darkness of night
The list goes on… some are higher risk than others.
For these workers, it's all about visibility. They literally put their lives at risk every day — which is why enhanced visibility and high visibility clothing options are so important. It's also crucial to worker safety that you know the difference between the two.
The Difference Between Enhanced Visibility and High Visibility Clothing
Enhanced Visibility Clothing
The term enhanced visibility references any garment, in any color, that has retro-reflective striping added to it. Enhanced visibility garments are for those still want that added visibility even though they work in lower risk areas. These garments aren't usually held to a particular safety standard.
Enhanced visibility clothing is recommended for oil and gas workers, those who work on docks, around forklifts and maintenance machinery, or work in an environment with low-light conditions.
High Visibility Clothing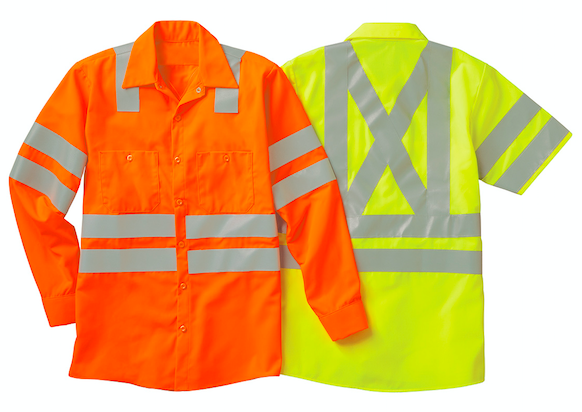 While enhanced visibility garments aren't held to any specific standards, high visibility garments are held to very specific ANSI 107 standards. These garments are even broken down into different types and classes, for specific workers and industries. In addition, each garment type has certain requirements for reflective fabric and fluorescent background material that must be met.
What Is ANSI 107?
The name itself — ANSI — refers to the American National Standards Institute, which has been serving as the U.S. private sector voluntary standardization system for more than 90 years.
The ANSI/ISEA 107 American National Standard for High-Visibility Safety Apparel and Accessories is a standard meant to enhance worker visibility. They include guidelines
that give practical instruction for both reflective material and garment design — all meant to enhance worker visibility.
It presents three performance classes of garments and classifies garment types based on how they're expected to be used and what and activities are being performed. Designations given are off-road (type O), roadway and temporary traffic control (type R), or public safety activities (type P).
Does Your Workplace Require Enhanced Visibility or High Visibility Clothing?
Consider your work and environment when considering the types of garments you choose. What will stand out the most for daytime use? What will give your employees the highest degree of contrast in their work setting or around any equipment in their work zone? For example, you wouldn't want a worker wearing bright orange around bright orange-colored equipment.
Again, enhanced visibility garments themselves are often a neutral color like grey or black, with reflective enhancements like striping on it. While these are loosely defined by some as "safety garments" they are ideal for many work environments where employee visibility is important to their safety. Because they're not held to a standard, an enhanced visibility shirt would have the tape around the chest and back and striping down the arm sleeves.
Color choices on High Visibility Vs Enhanced Visibility
Due to strict safety standards, high visibility has three different color options:
fluorescent yellow-green
fluorescent orange-red
fluorescent red
Colors are less strict for enhanced visibility garments. You won't see any bright fluorescent background colors. Instead, all you really have to consider is picking a contrasting color, like a fluorescent yellow or orange, with the retro-reflective tape.
Keep Your Employees Safe on the Job With Kleen Kraft
No matter the size of your company or the type of environment your employees work in, we have a uniform solution that fits. You can rent, lease or buy enhanced visibility safety clothing and other uniforms from Kleen Kraft. Together, we'll develop a uniform program that fits your safety needs and budget.
Contact a customer representative today to learn about our competitive pricing, exceptional service, and extensive inventory.