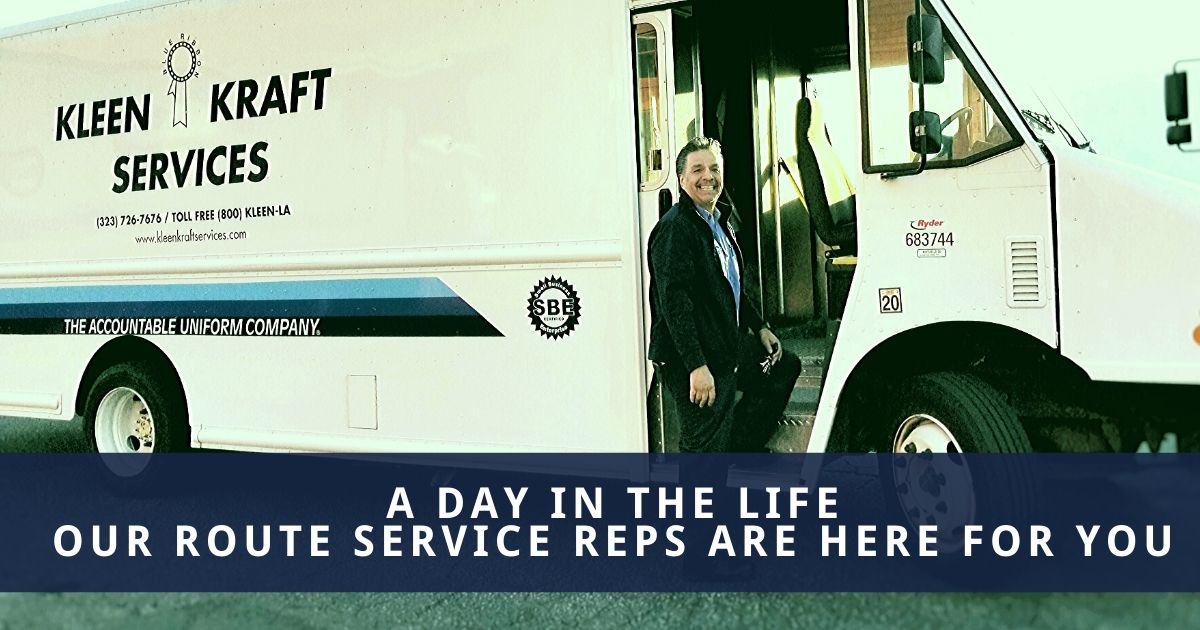 PERSONALIZED SERVICE FROM YOUR UNIFORM SUPPLIER
Route Service Representatives, or RSRs, are the faces of Kleen Kraft Services. They're the people our customers see and interact with during uniform deliveries. They get your garments, mops, towels, mats, soaps and other facility supplies to you every week. So, what does a day in the life of a Route Service Rep look like? We're here to give you an inside look at their responsibilities and relationships on the road.
Successful UNIFORM Deliveries Start Before Delivery Day
The beginning of their route actually starts at the end of their shift. Before heading home, our RSRs load up all their deliveries for the next day. These uniforms, towels and other products have already been through inspection, cleaned, bundled, checked, and are ready for delivery.
Time to get this route started
RSRs arrive back at Kleen Kraft the next morning ready to take on the day (and the L.A. traffic). They have carefully pre-planned routes that ensure your deliveries arrive on the date and at the time you expect them to. Our delivery trucks are also outfitted with GPS to ensure safety and timely deliveries to our customers.
Meet Richard Arias., a 15+ year employee.
Personal Point of Contact
At Kleen Kraft, we're invested in building relationships with our customers. Our RSRs are the main point of contact for clients, and they don't just hand off the order and leave. Part of their responsibility is to make sure you are totally satisfied with your order and Kleen Kraft's service, as well as address any unanswered questions you may have.
They're the point person for employees who may have a question about their delivery, they gather repair or service request forms and ensure all customer requests are communicated back to our production teams.
Many of our employees, and especially our RSRs have worked with Kleen Kraft for 10 years or longer. You're sure to see the same person on a regular basis!
The Process Starts All Over Again
When RSRs arrive back at our plant, they check in the soiled uniforms and other products. This begins the process of sorting, washing, drying, inspecting and more, which we do every single day for thousands of uniforms. Then, it's time to prep their truck and load the deliveries for the next day!
Next time you see your Kleen Kraft Service RSR, say hi! They enjoy getting to know our customers and are there to help in any way they can. If you're not working with us already for your uniform program, then consider working with a local company and people you can get to know.
Tired of seeing a new face every time, or maybe not even seeing a person at all? Ready for more personal service and attention from a company you can count on? Then consider making the switch to Kleen Kraft. Contact us to learn more about our uniform rental programs today.
*pictured at top, Greg Delgado a 22+ year employee.